NBA Players Who Played With Greatest of All Time (2017)
(Authored in May 2017)
Recently [2017] I read an article that briefly mentioned that around a dozen then-current NBA players had played at the same time as Michael Jordan. I also saw a highlight video showing a current star playing against another player from the Dream Team. This got me thinking more about institutional knowledge (which I have also had concerns about at work). This could be related to more than just their skill sets seen in their games, but their approaches to the game, personal practice, team workouts, conditioning, building camaraderie, et cetera, and sharing their winning talents purposely or as a role model.
I was curious about what current [2017] NBA players today played as teammates or as opponents with those considered to be the greatest players of all time. I base this on three lists: the Naismith Memorial Basketball Hall of Fame, the NBA players from the first Dream Team (1992 USA Olympics team), and the NBA's 50th Anniversary All-Time Team (chosen in 1996).
(This research does not include the relationships of players who became coaches or Hall of Famer coaches. Nor is this relationship about playing with the players in other leagues or venues outside of the NBA.)
The following Hall of Famers (up through 2006) were played with by at least two and at most 27 current [2017] NBA players (with last team and season played):
Joe Dumars (Pistons 1998-99)
Dominique Wilkins (Magic 1999)
Charles Barkley (Rockets 1999-2000)
Dennis Rodman (Mavericks 2000)
Chris Mullin (Warriors 2000-01
Arvydas Sabonis (Trail Blazers 2000-2001)
Patrick Ewing (Magic 2001-02)
Hakeem Olajuwon (Raptors 2001-02)
Mitch Richmond (Lakers 2001-02)
Michael Jordan (Wizards 2002-03)
David Robinson (Spurs 2002-03)
John Stockton (Jazz 2002-03)
Karl Malone (Lakers 2003-04)
Scottie Pippen (Bulls 2003-04)
Reggie Miller (Pacers 2004-05)
(While I include Miller in my list, note below I don't include the other current 14 players who played in the NBA during his last year. I stopped my current players' list at the 2003-2004 season as that season had the last Dream Teamers left. So I don't include today's players who were rookies in or after 2004.)

Eight current [2017] players were teammates with some of these Hall of Famers.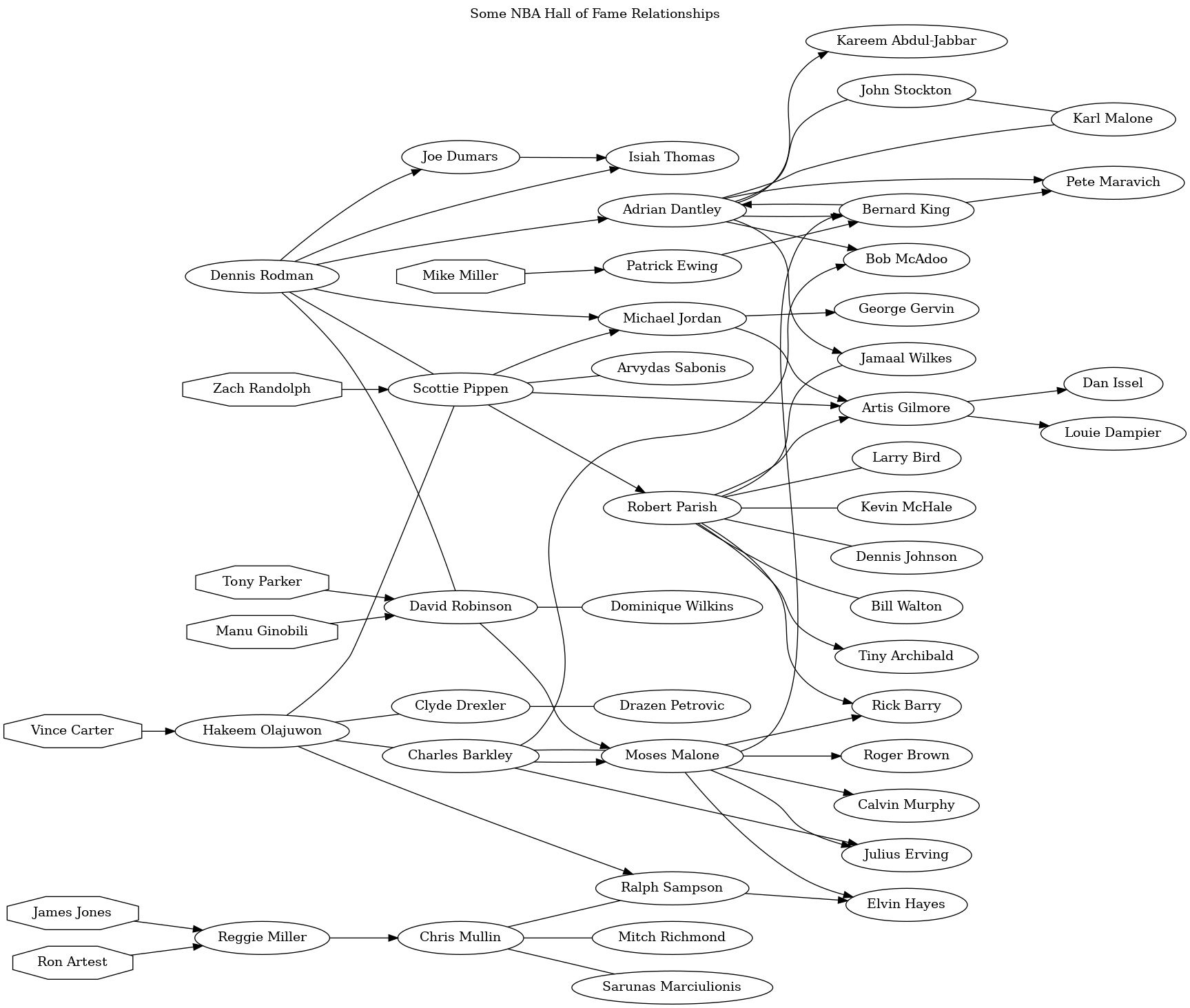 In Toronto, Vince Carter was a teammate one season with Olajuwon, the only player in NBA history to win league MVP, Defensive Player of the Year, and Finals MVP honors in the same season, While Olajuwon played 17 years at Houston, he took a better financial offer. At a news conference, Carter said "I'll go sign him myself if I have to ... I'm definitely up for giving him another chance to show what he has to show." With Olajuwon, Toronto was expected to be a favorite to win the Eastern Conference championship, but they ended the season in the first round. While his last season wasn't his normal success, he continued as a role model for the post-game (that seems to becoming extinct) by working with a lot of players teaching footwork around the paint

Dirk Nowitzki played with Rodman for only a few weeks in February 2000. He was also ejected twice and was soon waived by the Mavericks after a newspaper interview where he said the team needed a new point guard, shooting guard, power forward, center and owner. While he alienated his team and community, Rodman still showed the example of dominating the boards — averaging near 15 a game (but he didn't have enough games to qualify to lead the league that season).

James Jones and Ron Artest were teammates with Reggie Miller at Indiana. Well during this time, Artest was suspended for 86 games for his involvement in the Malice at the Palace. Artest, now known as Metta World Peace, later said "Miller tried to help me so much, but at that point I was learning how to listen but I wasn't there yet. I never really listened to Reggie a lot."

Jones said working with Miller was the greatest thing ever. "He showed me what it meant to work and to be committed to being a pro. He'd leave super-early — sometimes be at the arena three-and-a-half, four hours before the game. And at that stage in his career, it wasn't about how many reps, it was just about the repetition of being there — the routine."

The then-reigning rookie of the year Mike Miller played with Ewing for one season at Orlando. The future coach shared his wisdom with his teammates. "Here was one of the top 50 players, back in New York, in a game that means so much to him, and he's teaching me something about the game," Miller said about one of the experiences. "It says a lot about him."

Zach Randolph played with Pippen for two seasons at Portland. It was a difficult time for the Trail Blazers as several players were involved in real-court activities and on the court misbehavior. The six-time NBA champion Pippen was still leading the team and controlled the tempo of their games.

Tony Parker and Manu Ginóbili played with Robinson who walked away a two-time Spurs NBA champion. Often said to be a better role model than a player, he put any ego aside and let his younger teammates lead his team. He said: "I'm going to put you in position where you can succeed. Period. That's it. If you're a better scorer than me, I'll put you down on the block, you score. I don't care. I can do other things." And "I felt like my role was critical for this team. Even as I got older I felt like, how I come into this locker room, how I keep these guys together, keep them focused, keep the pressure off I felt like my role was critical for this team. Even as I got older I felt like, how I come into this locker room, how I keep these guys together, keep them focused, keep the pressure off ..."

Now for a few examples of those above gaining institutional knowledge by playing on the same team with other Hall of Famers:

Olajuwon was a teammate with Ralph Sampson (who played with future Hall of Famer Elvin Hayes), Barkley (who played with Hall of Famer's Julius Erving, Moses Malone, and Bob McAdoo), Pippen, and Clyde Drexler (who played with Drazen Petrovic);

Rodman played with Adrian Dantley (who played previously with future Hall of Famer's Bob McAdoo, Kareem Abdul-Jabbar, Jamaal Wilkes, Bernard King, Pete Maravich, Karl Malone, and John Stockton), Isiah Thomas, Dumars, Robinson, Jordan (who played with George Gervin and Artis Gilmore), and Pippen;

Miller played with Mullin (who played with Hall of Famer's Ralph Sampson, Mitch Richmond, and Sarunas Marciulionis);

Ewing played with Bernard King (who previously played with Adrian Dantley and Pete Maravich);

Pippen was a teammate of Jordan, Artis Gilmore (who played with Hall of Famer's Dan Issel and Louie Dampier), Rodman, Robert Parish (who played with Hall of Famer's Jamaal Wilkes, Rick Barry, Tiny Archibald, Larry Bird, Kevin McHale, Dennis Johnson, Bill Walton, and Artis Gilmore), and Sabonis; and

Robinson played with Rodman, Moses Malone (who played with Hall of Famer's Roger Brown, Elvin Hayes, Calvin Murphy, Rick Barry, Julius Erving, Charles Barkley, Bernard King, and Wilkins), and Wilkins.

(Again this is about being teammates with top players in NBA history who were previously teammates with the top players in NBA history.)

The following current [2017] NBA players played at the same time as three or more of the above hall of famers list (with first team and draft year):
Vince Carter (Raptors 1998)
Dirk Nowitzki (Mavericks 1998)
Jason Terry (Hawks 1999)
Metta World Peace (Bulls 1999)
Jamal Crawford (Bulls 2000)
Mike Miller (Magic 2000)
Tyson Chandler (Bulls 2001)
Pau Gasol (Grizzlies 2001)
Richard Jefferson (Nets 2001)
Joe Johnson (Celtics 2001)
Tony Parker (Spurs 2001)
Zach Randolph (Trail Blazers 2001)
Mike Dunleavy (Warriors 2002)
Manu Ginóbili (Spurs 2002)
Nenê (Nuggets 2002)
Carmelo Anthony (Nuggets 2003)
Leandro Barbosa (Suns 2003)
Nick Collison (Sonics 2003)
Boris Diaw (Hawks 2003)
Lebron James (Cavaliers 2003)
James Jones (Pacers 2003)
Udonis Haslem (Heat 2003)
Kyle Korver (76ers 2003)
Dahntay Jones (Grizzlies 2003)
Zaza Pachulia (Magic 2003)
Dwayne Wade (Heat 2003)
David West (Hornets 2003)
Which of these players will continue the tradition (of being inducted into the Hall of Fame)? Who is sharing the institutional knowledge? (I wonder if any of them will be retiring before next season?)
p.s. 15 players today [2017] played during Michael Jordan's last season.
p.p.s. Another article needs to be done with Shaq, Kobe, etc.